MY BLOG
Posts for: February, 2012
By Kevin S. Bone, D.D.S.
February 16, 2012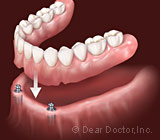 When a device meant to make your life easier doesn't function properly, it can be extremely frustrating. This is sometimes the case for people who wear lower dentures, which loosen over time. These removable replacement teeth can become less reliable and more uncomfortable. Why does this happen?
The answer is bone loss. When a tooth is lost, the bone surrounding it deteriorates and this will change the shape of the jawbone in your mouth. You may find that a lower denture that once had a snug fit on your lower jaw is now sliding around. This happens more often on the bottom because your muscular tongue pushes against the denture. Also, a top denture has more surface area due to an artificial palate to help create suction to the roof of the mouth and keep it in place.
Dental implants, which permanently replace the roots of teeth, do not loosen and they also prevent bone loss. But replacing a whole set of bottom teeth with dental implants and crowns is expensive. What to do?
There's a relatively new solution that combines the security of implants with the affordability of a removable denture. It's called an overdenture, and it may be something you want to consider. An overdenture is a lot like the removable lower denture you already have, only it fits over two implants strategically placed in your lower jaw. While the lower denture is still removable, its stability is greatly improved.
Studies have shown that people with two-implant overdentures have a higher quality of life, and receive better nutrition, than those wearing conventional dentures. It's not hard to figure out why: A more stable denture makes it easier to eat healthy foods such as vegetables — or, really, any foods — and prevents embarrassing slippage of false teeth.
If you are tired of living with a wiggly lower denture, contact us to discuss two-implant overdentures, or to schedule an appointment for a consultation.
You can read more about this topic in the Dear Doctor magazine article "Implant Overdentures for the Lower Jaw."
By Kevin S. Bone, D.D.S.
February 08, 2012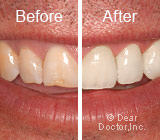 If you are unhappy with your smile or the way some of your teeth appear, porcelain veneers may be the solution to your concerns. They are a fast, effective, and well-proven method for cosmetically enhancing your smile — and a secret that Hollywood and other celebrities have been taking advantage of for years. To help you determine if they are right for you, here are some questions we typically receive.
What is a veneer?
A veneer is a custom made thin "shell" or thin layer of a dental ceramic material (usually porcelain) used to replace the front, visible surface of the tooth. They are artistically and hand-crafted using a precise model of your mouth and teeth to achieve a natural look.
What can they do for me?
Veneers are the optimal choice for correcting small to medium gaps between teeth; slight rotations of teeth causing them to be misaligned; oddly shaped, chipped, or "short" teeth; as well as teeth that are discolored or unevenly colored. However, veneers have their limitations, too. They cannot correct bite issues, poor tooth position, or profile issues. It is also important to note that if you have this procedure, we will typically need to remove a small amount of enamel from your teeth to accommodate the veneer and produce dramatic improvements to your smile.
How long will they last?
While they can vary widely from person to person, porcelain veneers usually last from 7 to 20 years. Factors that impact this timeline include your oral hygiene habits, diet, lifestyle, as well as how well you protect your veneers during sleep and while playing sports.
Have more questions?
Contact us today to discuss your questions or to schedule an appointment. You can also learn more about veneers by reading the Dear Doctor article, "Smile Design Enhanced With Porcelain Veneers."