MY BLOG
Posts for: June, 2013
By Kevin S. Bone, D.D.S.
June 26, 2013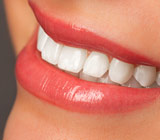 Have you ever wondered why your smile is not as white as it used to be? Well, there may be a few different reasons that your teeth have become discolored over the years. The change in color may simply be due to wear and tear from aging. It may also be a result of dietary factors, because foods containing tannins, such as red wine, coffee and tea are known to discolor teeth. Tobacco use, whether smoking or chewing, is another common cause of stains on your teeth.
So, what should you do if you decide you would like a whiter smile? You should first make an appointment with our office, so that we can assess the root cause of the discoloration. We may recommend a quick and easy solution with in-office whitening, sometimes known as power bleaching.
An in-office whitening treatment can lighten your teeth three to eight shades in just one office visit! During your whitening treatment, we will first protect your lips, gums and cheeks, leaving only your teeth exposed. Then, we will apply a professional strength bleaching gel to your teeth. We may use a special light to make the bleach work faster. The great advantage of this treatment is that your smile will become noticeably whiter in just an hour!
If you would prefer to whiten in the comfort of your home, we can give you a take-home whitening kit. First, we will make molds of your mouth, from which we will create thin plastic mouth trays that fit your teeth exactly. You'll apply the whitening gel to the trays and wear them on your teeth 30 minutes a day, twice a week, for about six weeks. While your teeth may not whiten as fast as in our office, if you wear them as directed, you'll still see great results.
Though you may always be able to find a whitening solution in the aisle of your grocery store, remember that the best way to ensure the results you want is to get a professional treatment.
If you would like more information about teeth whitening, please contact us or schedule an appointment for a consultation. You can also learn more by reading the Dear Doctor magazine article "Teeth Whitening."
By Kevin S. Bone, D.D.S.
June 13, 2013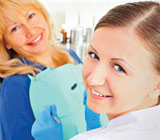 Once you receive your dental implants, you can have peace-of-mind in knowing that you have chosen a successful tooth replacement option, with long-term success rates of well over 95%. Your implant will look, feel and function just like the natural teeth that it has replaced.
However, despite the natural appearance, when you visit us for a regular cleaning, you may notice that we are using special instruments to clean around the implant. Cleaning around implants differs from the maintenance of your natural teeth for two reasons:
Your implants attach to the surrounding bone and gums in a very different way from your natural teeth.
The materials that comprise your implants are very different than those that make up your natural teeth.
Cleaning implants is just as important as cleaning natural teeth, because both depend on healthy surrounding tissues for support. Just as bacterial biofilm (plaque) collects on your natural teeth, it can also collect on your implant. That is why it is very important to brush and floss thoroughly on a daily basis at home. Without daily biofilm removal, the gums surrounding your implant can become infected, leading to bone loss and eventually loss of the implant.
Your regular dental cleanings will also play an important role in keeping dental implants infection-free, and we will select the right instruments for a professional cleaning. We will ensure that these instruments will not damage the crown, abutment, or the implant itself. If implants are scratched, they can attract and harbor bacteria. That's why the instruments we use, called scalers and curettes, are most often made of plastics and resins. Natural teeth don't scratch in the same way, and therefore metal instruments need to be used to clean them.
A number of power instruments have nylon or plastic sheaths or tips to minimize implant damage. They clean by using high-frequency vibration, which may be necessary if large quantities of debris have accumulated on your implant. We use these on a low power setting with a lot of water irrigation, and sometimes antibacterial solutions, to clean and flush material.
When it comes to keeping your implants infection-free, keep in mind that the most successful formula will be consistent oral hygiene at home mixed with regular dental cleanings.
If you would like more information about maintaining your dental implants, please contact us or schedule an appointment for a consultation. You can also learn more by reading the Dear Doctor magazine article "Dental Implant Maintenance."