MY BLOG
Posts for: July, 2014
By Kevin S. Bone, D.D.S.
July 23, 2014
A wise man once said, "No man is an island." Something similar could be said about our teeth — their health and vitality are intricately linked with a person's general health. Missing teeth in particular can set off a chain reaction that leads to bone loss, an issue for both your health and appearance.
Bone is composed of living cells that go through normal cycles of growth and resorption (the dissolving of mineral composition in the bone). In our early years, there's more growth than resorption as our skeletal structure develops; in adulthood the cycle tends to equalize between the two phases. In our later years, the cycle tends more toward resorption.
The action of biting and chewing actually helps keep the cycle on track as the generated forces stimulate bone growth. When teeth are missing, though, the bone no longer receives this stimulation and will resorb at a higher rate. This is especially a concern for people who've suffered a complete loss of their teeth.
This bone loss may in turn trigger a number of related problems. The jaws may no longer close properly, leading to painful stress in the joints. Nutrition suffers as food choices become limited due to the lack of teeth and bite problems. And, a person's appearance may change as well — the bone loss shortens the look of the face and causes the person to appear much older than they are.
Because of these potential problems, we should do everything we can to preserve and prolong natural teeth. But if preservation isn't an option, then some form of restoration should be pursued. Dental implants in particular may actually prevent and even reverse bone loss. Bone has an affinity with titanium (which is what the implant is made from) and will attach and grow around it over time. This not only anchors the implant, it also increases bone mass where it may have been prematurely lost.
Caring for and preserving your natural teeth is one of the best things you can do for the health of your jawbone. If you lose your teeth, though, there are ways to restore them and protect bone health — and your smile — at the same time.
If you would like more information on the effects of tooth loss, please contact us or schedule an appointment for a consultation. You can also learn more about this topic by reading the Dear Doctor magazine article "New Teeth in One Day."
By Kevin S. Bone, D.D.S.
July 15, 2014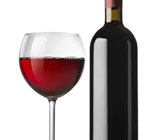 Have you heard the news about red wine? Every so often, the fruit of the vine is touted for some potential health benefit. Several studies over the past few years have suggested that it could help prevent heart disease and even certain types of cancer — only to have their conclusions called into question by new research. Just recently, newspapers trumpeted a new study from the Journal of Agriculture and Food Chemistry suggesting that certain chemicals in the vino might one day be used to help prevent cavities!
So is red wine good for your health, or isn't it?
The jury's still out. But there's one thing we do know: Regardless of whether it has any affect on cavities, red wine is one of the major culprits in tooth staining.
Of course, it's not the only offender: Coffee and tea, tobacco in any form, certain foods and some types of medications can all cause extrinsic stains on teeth — that is, stains that affect the exterior surface of the tooth. In addition, intrinsic stain — those that arise from the interior of the tooth — may be caused by root canal problems, or by certain dental filling materials.
If you have stained teeth — whether from red wine or another cause — can you do anything to make them whiter?
Oftentimes, the answer is yes — but finding the best way to do so can be challenging. You can begin by identifying habits and dietary factors that could cause staining. Then, reduce or eliminate the stain-causing factors, and enhance the beneficial ones. For example: stop smoking, modify your diet, practice regular, effective oral hygiene… and come in to the dental office twice a year for a professional cleaning and check-up. In addition, check whether any of your medications could cause staining or reduced saliva flow — a major contributor to the problem.
If making these changes isn't enough to control teeth staining, the good news is that a number of treatments are available that can help bring your teeth back to a pearly shine — or even give you the "Hollywood white" smile you've always wished for. Depending on the cause of your teeth staining, and your desired level of brightening, these treatments can range from professional bleaching to porcelain veneers.
If your smile needs a little help to look its brightest, contact us or schedule an appointment to find out what we can do. For more information, see the Dear Doctor magazine articles "Tooth Staining" and "Important Teeth Whitening Questions Answered."