MY BLOG
Posts for tag: dental emergency
By Kevin S. Bone, D.D.S.
December 23, 2013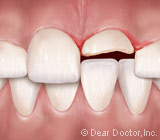 Tooth decay and other oral diseases aren't the only dangers your teeth face — accidental injuries also pose a risk. Fortunately, much can be done to save injured teeth, if you act quickly.
Dental injuries where part of the enamel crown has chipped off are the most common. Even if only one tooth appears damaged, adjacent teeth and bone might also have been damaged internally. Most chip injuries can be repaired either by reattaching the broken crown or with a tooth-colored filling or veneer. If the damage has extended into the inner tooth pulp then a root canal treatment might ultimately be necessary.
Teeth that have been knocked loose from normal alignment (dislodged) or where the entire tooth with its root has separated from the socket (avulsed) are rare but severe when they occur. It's imperative to see a dentist as soon as possible — even more than five minutes' of elapsed time can drastically reduce the tooth's survivability. Dislodged teeth are usually splinted to adjacent teeth for several weeks; we would then carefully monitor the healing process and intervene with endodontic treatment (focused on the tooth's interior) should something unfavorable occur.
With the possible exception of a primary (baby) tooth, an avulsed tooth should be placed back in the socket as soon as possible. This can be done by someone on scene, as long as the tooth is handled gently, the root not touched, and the tooth rinsed with cold, clean water if it has become dirty. If no one is available to do this, the tooth should be placed in milk to avoid drying out the root, and the patient and tooth transported to a dentist immediately. Once in the socket, the treatment is similar as for a dislodged tooth with splinting and careful watching.
The damaged tooth should be checked regularly. Your body's defense mechanism could still reject it, so there's a danger the root could be eaten away, or resorbed. Some forms of resorption can't be treated — the aim then is to preserve the natural tooth for as long as possible, and then replace it with a life-like restoration to regain form and function.
If you would like more information on the treatment of injured teeth, please contact us or schedule an appointment for a consultation. You can also learn more about this topic by reading the Dear Doctor magazine article "Trauma & Nerve Damage to Teeth."
By Kevin S. Bone, D.D.S.
December 12, 2013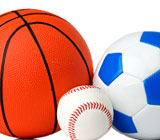 Everyone knows that football players and boxers wear mouthguards to protect their teeth from injury — in fact, it's thought that this essential piece of protective gear was first developed, around a century ago, for the latter sport. But did you know that many other athletic activities carry a high risk of dental injury?
How much do you know about dental injuries in sports? Take this quiz and find out!
True or False: Of all sports, baseball and basketball are associated with the largest number of dental injuries.
True. While these games aren't categorized as "collision" sports, the damage caused by a flying elbow or a foul ball may be quite traumatic. Tooth damage or loss can create not only esthetic problems, but also functional problems, like difficulty with the bite. Missing teeth can also be expensive to fix — running up a lifetime tab of some $10,000 - 20,000 if they canâ??t be properly preserved or replanted.
True or False: In general, oral-facial injuries from sports decline from the teen years onward.
True. Sports-related dental injuries, like other trials of adolescence, seem to peak around the teenage years. It's thought that the increased skill level of participants in the older age groups reduces the overall incidence of injury. But there's a catch: when dental injuries do occur in mature athletes, they tend to be more serious. So, protecting your teeth while playing sports is important at any age.
True or False: Over 80% of all dental injuries involve the upper front teeth.
True. For one thing, the front teeth areâ?¦ in front, where they can easily come in contact with stray objects. An individual's particular anatomy also plays a role: The more the front teeth "stick out" (referred to as "overjet" in dental parlance), the more potential for injury. In any case, theyâ??re the most likely to be damaged, and most in need of protection.
True or False: Your chance of receiving a dental injury in non-contact sports is very slim.
False. Even "non-contact" athletes moving at high rates of speed can be subject to serious accidents. Activities like bicycling, motocross, skateboarding, skiing and snowboarding all carry a risk. The accidents that result can be some of the most complicated and severe.
True or False: An athlete who doesn't wear a mouthguard is 60 times more likely to suffer harm to the teeth.
True. This figure comes straight from the American Dental Association. So if you want to reduce your chance of a sports-related dental injury, you know what to do: Wear a mouthguard!
What's the best kind of mouthguard? Like any piece of sports equipment, it's the one that's custom-fitted just for you. We can fabricate a mouthguard, based on a precise model of your teeth, that's tough, durable and offers the best level of protection. And, as many studies have shown, that's something you just can't get from an off-the-shelf model.
If you have concerns about sports-related dental injuries and their prevention, please contact us or schedule an appointment for a consultation. You can learn more in the Dear Doctor magazine articles "Athletic Mouthguards" and "An Introduction to Sports Injuries & Dentistry."
By Kevin S. Bone, D.D.S.
September 06, 2013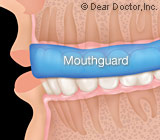 Participating in athletic activities offers numerous well-documented health benefits — not to mention instilling the intangible values of discipline, teamwork and goal-setting. Of course, in nearly every sport, the possibility of injury exists as well. But don't let that stop you or someone you love from playing! Instead, you can learn about the potential hazards of dental injury, and take some practical steps to minimize the risk.
It should come as no surprise that injury to the mouth is an ever-present possibility in so-called "collision" sports like football and ice hockey. But did you know that the greatest number of dental injuries result from the games of baseball and basketball, which are often played informally? Even non-contact sports like skiing, bicycling and skateboarding carry a real risk of injury.
Who suffers dental injury? Men are slightly more likely than women — but only by a small percentage. Injury peaks in the teenage years, and seems to decrease afterward — but older athletes tend to have more severe problems. In short, most anyone who participates in sports is subject to possible dental injury.
Besides the obvious aesthetic imperfections, a damaged or missing tooth can also result in functional problems with the bite — a potentially serious condition. If a tooth can't be immediately replanted, restoring it can be expensive: The total cost of each tooth replacement is estimated at $10,000-$20,000 over a lifetime. So tooth damage or loss can cause a multitude of troubles.
The American Dental Association (ADA) has recommended that participants in all of the sports mentioned above — as well as two dozen others — should wear a custom-fitted mouthguard. Why? Because when it comes to dental injury, an ounce of prevention really is worth a pound of cure.
Numerous studies have shown that wearing a custom-fitted mouthguard is an effective way to prevent dental injury. According to the Academy of General Dentistry, mouthguards prevent some 200,000 injuries each year. And the ADA says that athletes who don't wear mouthguards are 60 times more likely to sustain harm to the teeth than those who do wear them.
Off-the-shelf mouthguards in a limited range of sizes are available at many sporting-goods stores. But these can't compare to the superior protection and durability offered by a mouthguard that's custom-made just for you. Using an exact model of your teeth, we can individually fabricate a piece of protective gear that fits correctly and feels comfortable in your mouth. A custom mouthguard may be more economical than you think — yet its real payoff comes in preventing dental injury.
If you have questions about mouthguards or sports-related dental injuries, please contact us or schedule an appointment for a consultation. You can learn more in the Dear Doctor magazine articles "Athletic Mouthguards" and "An Introduction to Sports Injuries & Dentistry."