MY BLOG
Posts for tag: missing teeth
By Kevin S. Bone, D.D.S.
March 02, 2018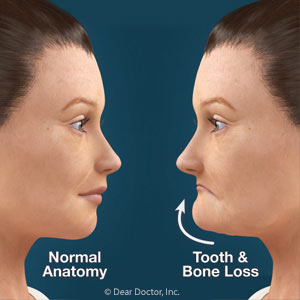 Losing teeth will certainly disrupt your otherwise beautiful smile. It could also potentially affect your food choices and whether or not you receive proper nutrition.
But something else just as consequential could be happening beneath the surface of your gums—you could be losing bone. Significant bone loss in the jaw could adversely affect remaining teeth and facial structure, as well as limit your future restoration choices.
To understand why this occurs we must first consider what bone is: living, cellular tissue. Like the body's other cells, bone has a life cycle: cells form, live and eventually dissolve (or resorb), and are then replaced by new cells. Stimulation from forces generated during chewing traveling up through the tooth roots to the jawbone keep this cycle going at a healthy pace.
But when a tooth is missing, so is this stimulation. This could slow the replacement rate and cause bone volume to gradually decrease. The jawbone width could decrease by as much as 25% the first year alone and several millimeters in height after just a few years.
Although dentures (a popular and affordable choice) can restore lost function and appearance, they can't duplicate this needed stimulation. They even accelerate bone loss by irritating and creating compressive forces on the bony ridges and the gums they rest upon.
One restoration, however, can actually help stop bone loss and may even reverse it: dental implants. This happens because an implant's metal titanium post imbedded in the jawbone attracts bone cells to grow and adhere to its surface. This could actually increase bone density at the site.
To gain this advantage, it's best to obtain implants as soon as possible after tooth loss. If you allow bone loss to occur by waiting too long, there may not be enough to properly support an implant. Even then it might be possible to build up the diminished bone through grafting. But if that's not possible, we'll have to consider a different restoration.
To determine the condition of your bone after losing teeth, visit us for a complete examination. Afterward, we'll be able to discuss with you the best way to address both your overall dental health and your smile.
If you would like more information on treating missing teeth, please contact us or schedule an appointment for a consultation. You can also learn more about this topic by reading the Dear Doctor magazine article "The Hidden Consequences of Losing Teeth."
By Kevin S. Bone, D.D.S.
May 30, 2014
If you are one of the millions of Americans with missing teeth, then you're probably aware of some of the obvious side effects. You may feel self-conscious during conversations or simply avoid smiling altogether to conceal your dental issue. It is not uncommon for missing teeth to affect your confidence, but did you know that there are other problems that result from tooth loss?
For starters, if you have lost enough teeth, eating may become more difficult, in particular healthy foods, such as fruits and vegetables. This is one of the main reasons that inadequate dental care frequently results in nutritional deficiency.
Another very serious issue that results from missing teeth is bone loss. We sometimes refer to this as a "hidden consequence," because you may not actually see or feel this issue right away. Did you know that bone is actually living tissue that needs constant stimulation to maintain its form and density? Thus, when a tooth is lost, the bone in the jaw that surrounded and supported that tooth melts away. There is a 25% decrease in width of bone during the first year after tooth loss and an overall 4 millimeters decrease in height over the next few years. The longer you have missing teeth, the greater the loss of bone.
As bone loss continues, it can actually affect the structure of your face. If you lose your teeth early in adulthood, by age 45 you might start to notice sunken cheeks. By age 60, your cheeks and lips will lose their support, resulting in a collapsed and aged look. If your teeth are not replaced, this process will continue, and you will be in danger of losing much of the structural support of your lips and cheeks.
Luckily, we can use dental implants to not only restore your smile, but also to halt this bone loss. Implants look, feel and function like your natural teeth and are made of titanium, which has the unique ability to fuse with your living bone. Among the many benefits of implants, they continue to provide stimulation to your bone, preventing further bone loss.
With a success rate of more than 95%, implants are the best long-term solution for tooth replacement.
If you would like more information about implants and bone loss, please contact us or schedule an appointment for a consultation. You can also learn more by reading the Dear Doctor magazine article "The Hidden Consequences of Losing Teeth."
By Kevin S. Bone, D.D.S.
April 01, 2014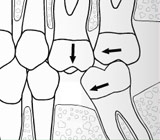 For most people, replacing missing front teeth takes a higher priority over missing back teeth. The reason is obvious: others can see those missing in front, but not necessarily those in the back.
From a functional view, however, you should still consider replacing missing back teeth. Not only will it improve your chewing ability, it may also prevent a chain reaction of negative effects to your remaining teeth.
Teeth are held in place in the jawbone by a membrane called the periodontal ligament. The ligament is a living tissue that allows teeth to move to keep contact with adjacent and opposing teeth as natural wear occurs. When a space is created by a missing tooth, this natural movement accelerates and the teeth may shift beyond normal ranges.
As a result you can encounter excessive mobility of teeth from bite irregularities, uneven tooth wear, bone loss, potential painful problems with the temporo-mandibular joints (connecting the lower jaw to the skull), and a loss in facial height.
There are three basic options for this kind of tooth replacement. The best option is dental implants: these free-standing replacements don't normally affect surrounding teeth, they're easier to clean, and they help support the bite. On the downside, there must be enough remaining bone to support the implant.
The next best option is a fixed bridge. This option only works, however, if there are teeth on either side of the missing tooth space capable of supporting the bridge, and they must be reduced in size by removing the enamel with the dental drill. They also have a tendency to retain plaque, the main cause of gum disease.
That leaves the last, and least favorable, option, a removable partial denture. They may also trap food and be difficult to wear. They can move in the mouth, stressing — and possibly loosening — the remaining teeth that hold them in place. With all its drawbacks, though, if a partial denture is the only solution to missing back teeth, it's a better alternative than doing nothing and risking long-term problems.
If you would like more information on replacement options for back teeth, please contact us or schedule an appointment for a consultation. You can also learn more about this topic by reading the Dear Doctor magazine article "Replacing Back Teeth."