MY BLOG
Posts for tag: oral piercings
By Kevin S. Bone, D.D.S.
September 25, 2013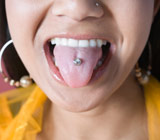 Although sometimes controversial, body piercing has exploded in popularity, especially among young people. Aside from the social debate about such practices, there are health risks to consider. Oral piercings, in particular — especially of the tongue — could have an adverse effect on your dental health.
The trouble begins with the piercing procedure itself. The tongue is composed of a number of muscle groups that given its wide range of function require a lot of energy. To supply this energy the tongue has a large network of blood vessels; during a piercing it's not uncommon for profuse bleeding to occur. The tongue also contains a lot of nerve fibers — a piercing may result not only in severe pain, but in possible nerve damage too.
The tongue bolt, the most common tongue piercing, can cause a lot of damage in the mouth during wear, such as tooth chipping and increased sensitivity. It can also interfere with oral hygiene and contribute to the growth of tooth decay and gum disease. And, as with any cut or abrasion to soft tissue, piercings increase the risk of infection.
There are also issues if and when you decide to give up the tongue bolt — fortunately, though, not to the same degree as during wear. Cuts to the tongue tend to heal quickly, so the piercing hole may fill in spontaneously. In some circumstances, however, a surgical procedure (similar to one performed on large ear piercings) may be required to repair the piercing hole.
For the long-term sake of your oral health, we would advise against having your tongue or lips pierced. And, if you already have a piercing, please consider giving it up — in the long run you'll be doing your teeth, gums and other tissues in your mouth a favor.
If you would like more information on oral piercing and its effects, please contact us or schedule an appointment for a consultation. You can also learn more about this topic by reading the Dear Doctor magazine article "How to Help Your Child Develop the Best Habits for Oral Health."
By Kevin S. Bone, D.D.S.
April 24, 2011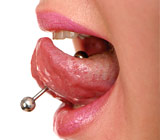 Tongue and other piercings are a current fad or trend, but can often lead to unforeseen problems.
Piercing the tongue and installing a metal ornament called a tongue bolt commonly leads to chipped teeth, sensitivity, and pain. More frequently, it can cause problems with the gums, such as recession, inflammation, infection, bone loss, and even nerve damage.
In one case reported by the American Medical Association, a teenager suffered 20 to 30 daily electrical shocks in many areas of her face after having her tongue pierced and installing a tongue bolt. A neurologist found that the bolt irritated the nerves to her tongue, causing the symptoms. After the bolt was removed, the shocks and symptoms ceased and her tongue healed.
Having the bolts placed may be painful. The tongue is rich in nerves and blood vessels and a lot of bleeding can occur, which can be difficult to stop. Think about how painful it is when you bite your tongue or lip accidentally. And tongue and lip bolts are not generally placed by health professionals or under sterile conditions.
If you are considering getting an oral piercing, make an appointment with us to discuss all the possible ramifications before you make the decision to go ahead. If you already have an oral piercing, be sure to come in for frequent checkups.
Contact us today to schedule an appointment to discuss your questions about oral piercings. You can also learn more by reading the Dear Doctor magazine article on "Body Piercings and Teeth: The dangers of tongue and lip piercing."