MY BLOG
Posts for tag: snoring
By Kevin S. Bone, D.D.S.
May 10, 2016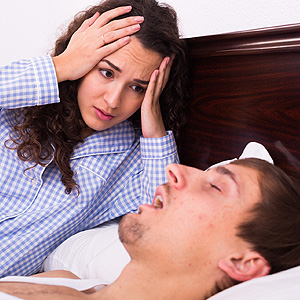 If your sleeping partner snores, it could be more than an annoyance: it could be a sign of sleep apnea. This occurs when air flow into the lungs becomes obstructed in the throat for a few seconds during sleep. The obstruction can take many forms, but a common one arises from the tongue relaxing against the back of the throat, producing snoring sounds as air attempts to pass through this restricted area.
Sleep apnea can cause severe problems: lower daily energy levels and mood from poor sleep; lower oxygen saturation that could affect brain function; and increased risk for cardiovascular disease. So, if you're awakened by your partner's snoring (or they're complaining about yours!), it's important to have it checked and treated.
This begins with a visit to us for a complete oral examination. Like many dentists, we're well trained in the anatomy and structures of the mouth, as well as the causes and treatment of sleep apnea. We'll examine your mouth, take into account any possible symptoms you're experiencing and, if your suspicions are correct, refer you to a sleep physician to diagnose if you have sleep apnea.
Treatment will depend on its cause and severity. An oral appliance worn during sleep is the recommended first treatment for mild to moderate sleep apnea that involves the tongue as an obstruction. We develop a custom appliance that helps move your tongue away from the back of the throat, reducing both apnea and snoring sounds. For more advanced sleep apnea you could benefit from a Continuous Positive Airway Pressure (CPAP) machine. This device generates continuous air pressure through a mask worn while sleeping that helps keep the airway open.
Of course, there are other causes for obstruction, some of which may require surgical intervention to relieve the problem. Abnormally large tonsils, adenoids or excessive soft tissue can all restrict air flow. Surgically removing or altering these structures could help reduce airway restriction.
Whatever type or degree of sleep apnea you or your partner may have, there are solutions. The right treatment will not only improve overall health, it will help both of you get a better night's sleep.
If you would like more information on sleep apnea and how to treat it, please contact us or schedule an appointment for a consultation. You can also learn more about this topic by reading the Dear Doctor magazine article "If You Snore, You Must Read More!"
By Kevin S. Bone, D.D.S.
April 28, 2014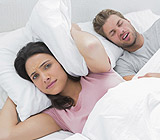 Your snoring isn't just an annoyance to other members of your household — it could indicate a serious health issue. Fortunately, there are treatments, some of which your dentist might be able to provide.
Snoring is the result of soft tissue structures in the back of the throat, including the tonsils, the uvula, the tongue or fat deposits, collapsing on each either and obstructing the flow of air into your lungs. The obstructions produce a vibration that is the source of the snoring.
These obstructions could lead to a serious condition known as Obstructive Sleep Apnea (OSA). As the name implies, the obstruction causes a complete cessation of airflow for several seconds. As oxygen levels drop, the body responds by waking for one to three seconds (known as "micro-arousals") to restore airflow. These disruptions can occur several times a night, as much as fifty times an hour. The depletion of oxygen and resulting low quality of sleep can contribute to high blood pressure, a higher risk of heart attack or stroke, and the possibility of accidents caused by lower alertness during the day.
You can help reduce the effect of OSA by losing weight and exercising. You may also be a candidate for Continuous Positive Airway Pressure (CPAP) therapy, which utilizes a device that delivers pressurized air into the airway while you sleep.
Depending on the exact cause and extent of your OSA, you might also benefit from treatments provided by your dentist. We can develop a custom-fitted oral appliance, similar to an orthodontic retainer or sports mouthguard, which you wear while you sleep. These devices work by repositioning the lower jaw forward, thereby maintaining an open airway by also moving the soft tissue of the tongue forward. For more advanced conditions, certain surgical procedures that realign the jaw or remove excess tissue, the tonsils and adenoids, or parts of the uvula or soft palate could be considered.
To know your best treatment course, you should schedule a complete oral examination to determine the exact cause of the obstruction, and possibly a polysomnogram, an overnight study performed in a sleep lab. And as your dentist, we might be able to provide the key for a better night's sleep and a healthier tomorrow.
If you would like more information on how we can address your problems with sleep apnea, please contact us or schedule an appointment for a consultation. You can also learn more about this topic by reading the Dear Doctor magazine article "Snoring & Sleep Apnea."
By Kevin S. Bone, D.D.S.
October 23, 2011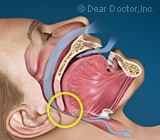 Snoring and other sleeping disorders impact between 50 and 70 million Americans each year. However, did you know that our office can help when it comes to diagnosing and treating sleeping disorders? For this reason, we have put together this list to highlight how we can have a positive impact on your snoring.
Many people are surprised to learn that physician training is lacking and very slowly evolving in the area of sleep related breathing disorders. Therefore, there is limited public and medical awareness. The American Academy of Sleep Medicine (AASM) has acknowledged that properly trained dentists are the first line of therapy for treating mild to moderate sleep apnea effectively.
Because we see our patients on a more regular basis than many primary-care physicians, we dentists are in a unique position to identify and/or detect a SRBD. However, for us to accomplish this, you must share the facts about your sleeping habits and issues related to breathing. In other words, do not be embarrassed to let us know that your spouse, sleeping partner or family complain to you about your snoring!
When it comes to treating complications associated with Oral Appliance Therapy (OAT) used in managing Sleep Related Breathing Disorders (SRBD), dentists are the primary professionals who are specifically trained to create, fit, adjust, monitor and treat any complications associated with a mouthpiece (oral appliance).
Did you know that dentists help identify the approximately 90% of misdiagnosed cases of patients suffering from a SRBD? Well, it is true. We play a critical role in diagnosing and treating these patients.
Another reason why it is much easier for us to diagnose and treat these problems is because the core of our training is centered upon the oral cavity, mouth and parts of the upper airway — the very areas where your snoring and SRBDs occur.
If you suffer from snoring or any other Sleep Related Breathing Disorder, it is imperative that you seek and obtain treatment. Ignoring these problems can lead to issues such as: an irregular heartbeat, heart attacks, high blood pressure, and other forms of heart disease as well as strokes and impotence. Contact us today to discuss your questions about snoring or to schedule an appointment. You can also learn more about snoring and sleep disorders when you continue reading the Dear Doctor magazine article "Sleep Disorders & Dentistry."